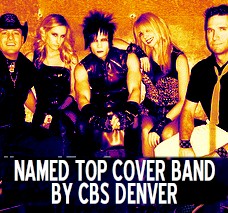 Denver is home to That Eighties Band, one of the most popular 80's tribute bands in America. The group has performed at over 1,000 concerts, corporate events, and weddings. Past clients include Google, Pepsi, Home Depot, The Colorado Avalanche, The Kansas City Chiefs, The Pepsi Center, The Denver Nuggets, The Colorado Rapids, The Cities of Denver, Chicago, Boulder, and many more. CBS Denver named them the top cover band in Denver. They have been named a ''Top 10 Wedding Band'' by The Knot Magazine. Their high energy show and broad appeal is setting a new standard in corporate, nightclub, and wedding entertainment.


"They are the hottest 80's Tribute band in the nation."
Slacker & Bo, Alice 105.9 Afternoon Show



"The greatest 80's cover band to ever happen to Denver."
Metromix Denver



"You did an outstanding job."
Clark Hunt, Owner - The Kansas City Chiefs



"Your performance was a huge contributor to the success of our event."
Google, Inc.



"You guys are great!"
Martina McBride, International Country Artist




DATE

VENUE

5/25/2013

:

5/31/2013

:

6/1/2013

:

6/7/2013

:

6/8/2013

:

6/14/2013

:

6/15/2013

:

6/20/2013

:

6/21/2013

:

6/22/2013

:

6/28/2013

:

6/29/2013

:

7/9/2013

:

7/10/2013

:

7/12/2013

:

7/13/2013

:

7/19/2013

:

7/20/2013

:

7/23/2013

:

7/26/2013

:

7/27/2013

:

7/31/2013

:

8/2/2013

:

8/3/2013

:

8/3/2013

:

8/10/2013

:

8/15/2013

:

8/16/2013

:

8/17/2013

:

8/17/2013

:

8/23/2013

:

8/24/2013

:

8/31/2013

:

9/5/2013

:

9/7/2013

:

9/7/2013

:

9/13/2013

:

9/14/2013

:

9/20/2013

:

9/21/2013

:

9/27/2013

:

9/28/2013

:

10/5/2013

:

10/11/2013

:

10/12/2013

:

10/18/2013

:

10/19/2013

:

10/26/2013

:

11/1/2013

:

11/2/2013

:

11/8/2013

:

11/9/2013

:

11/22/2013

:

11/23/2013

:

12/6/2013

:

12/7/2013

:

12/12/2013

:

12/14/2013

:

1/11/2014

:

Site By Travis LeRoy
You are # 306,045
Updated 5/22/2013